Being the preppy fashionista that I am, I subscribe to dozens of different newsletters for magazines, stores, boutiques – you name it, I have an email subscription to it. There are few that I actually open and read. One of my favourite subscriptions is J.Crew and J.Crew Factory. If I won the lottery tomorrow, I would go and buy every single item in their catalogue.
Well, today…I am showing and reviewing a look that is straight from J.Crew's email blast. The temperatures are dropping, and that is why this look will keep you nice and toasty warm, making sure you are bundled up for this chilly season!
J.Crew is known for their heavy, well-made coats. This parka is beautiful. It comes in a variety of colours, but this regal blue is just the pop of bright blue you need for the cold and dreary season. With a fur-trimmed hood and an A-line shape, this coat is just what you need to keep all bundled up, ready for the snow to fall.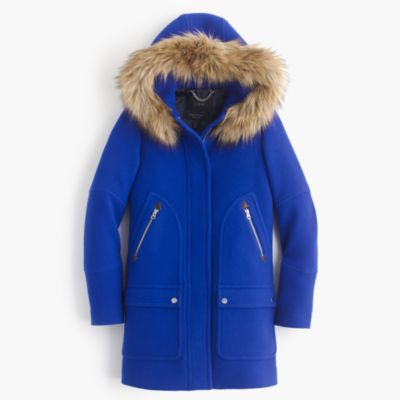 Soft, cozy and woolen sweaters are my favourite. Merino wool is a complete J.Crew fabric fave and I completely understand why. It is the type of wool that doesn't itch or scratch, it just keeps you cozy! It's light enough that you can pair it with a collared blouse underneath, yet it is not so light that it cannot be worn in the chilly months.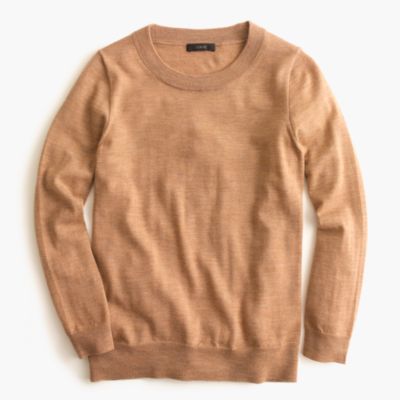 Boat neck tops are weird necklines – I'm just going to say it. A lot of people find it weird where they fall on your collarbone. However, I think they make your neck look longer and really display a nice (and classic) area of your upper body, while remaining a little mysterious. I don't love super low cut tops, but sometimes you don't feel like wearing something right up to your chin…boat necks are perfect, and this light boat neck tee fits those needs perfectly!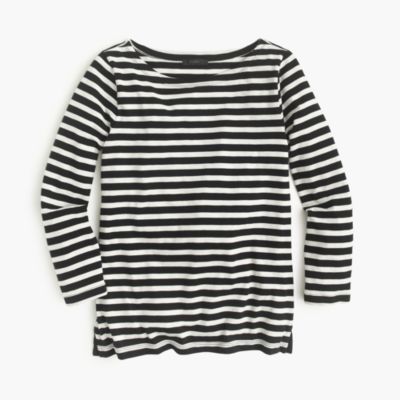 Leopard print is something that should be in every girl's closet. I have a strict rule when it comes to leopard print and that is accessories only. I say this because you can start to look really tacky when you throw on the leopard print dress, skirt, etc… These "Gemma" flats are perfect with the pointed toe, with the bow on the end – absolutely adorable. I also love how deep the leopard print colour is. J.Crew calls it "dusty cedar", and I'm not sure why, but the dark undertone is perfect for the Winter season.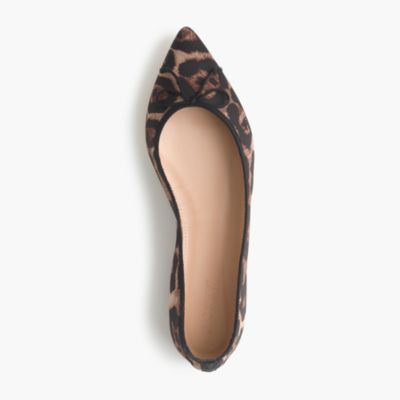 I personally have never owned a pair of pants by J.Crew, however, I have tried them on at the store though. These pants are unbelievably comfortable – the stretch in the pant really allow you to get a good fit. The only thing I will say, is that I like to size up in J.Crew to allow them to not be too tight. I really love navy pants, and with this look, these pants would be a no brainer – for work, school or dinner with the family!
So there you go…those are J.Crew's "flying off the shelves" best-sellers of the season, and I can't blame them. Not only are they all best-sellers, they all go together perfectly, which is why I want this whole look. I'm not going to get it…but a girl can dream right? I have linked all of these items in their titles and below in case you want to go check them out for yourself!
Do you own any of these items? Are there other favourites you have from J.Crew? Or are you a super fan of another brand? Let me know in the comments below…