So you've got an event to attend, or maybe it's super hot out and you're feeling a little dressy? Why turn to the little black dress or stress over the perfect top and skirt combo? Fear no more ladies because there is a spunky new solution for your wardrobe problems…and it's name is the two piece.
Two pieces consist of…well…two pieces – a top and a bottom. They match in either the same colour or print or wildly colour blocked as well. Whether the top is cropped or meets the skirt perfectly, it is a polished look and no one can deny how cute it is as well. There are so many different types out there – sexy, cute, and chic looks…all with two pieces!!
We have seen this beautiful style choice worn by celebrities like Sarah Hyland, Taylor Swift and Emma Stone – in very elegant ways, I may add: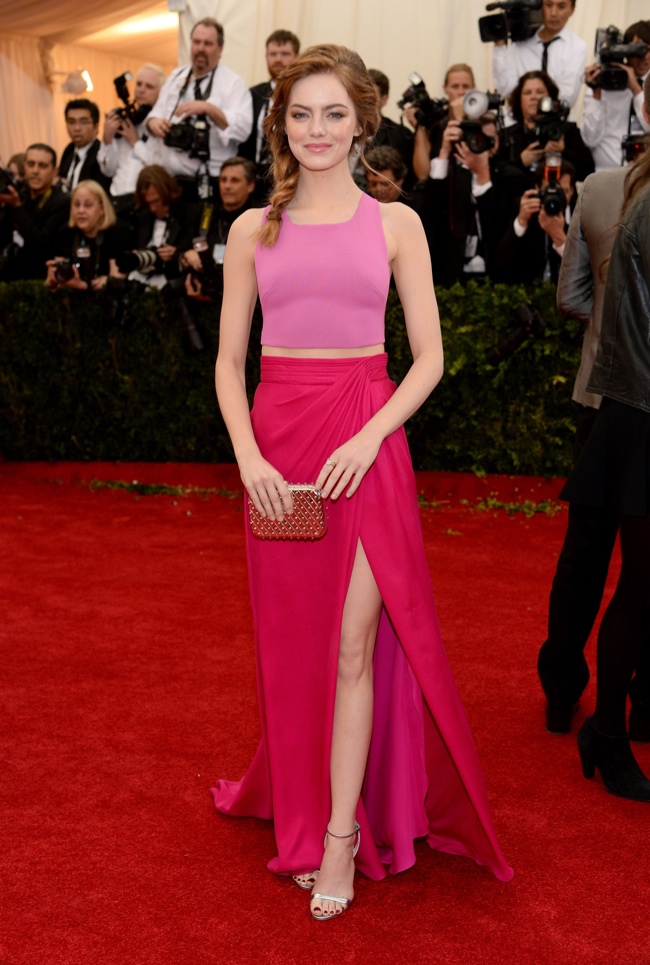 These are such posh looks, worn in such an elegant way! However, when you aren't attending red carpet events every other week, there are ways to incorporate the two piece into your wardrobe…and still be super cute! Which is why I want to show you some two piece looks that I love for fancy and casual occasions!!
The Transition Two Piece: I have never found such a cute knit two piece like this one, that not only can be worn in the Summer but also can be worn during the Fall. What I love about this two piece specifically, is the long sleeved crop top. This is such an interesting spin on the look and very in trend. The knit material is light for summer and warm for Fall. Another interesting feature of this look is the length of the skirt. While many two pieces include a mini skirt, that doesn't always work for everybody. The knee-length skirt actually makes the torso look longer – throw in a fab pair of heels, and you are set to go!

The Floral Two-Piece: Floral two pieces were super in this summer. This, especially, is a two piece that will never go out of style. The white back with the large floral print is simple and beautiful! No jewelry is needed with this outfit (which is another reason I love two pieces). This is an example of the mini skirt included in the two piece outfit. Worn the correct way, it can look cute and not too revealing. This would be the way to do it!
The Short-Top Two Piece: Okay, so I kind of branded this two piece myself because, when I think traditional two piece, I tend to think skirt and top…but there are the rare sets that come with shorts and a top! The blue and white detail reminds me of china pattern which may sound a little drab…but it is quite the opposite, don't you think? This is a Summer wear for sure, so this would have to be stashed away for next year…but why not get it on sale?
The three pieces that I showed you above are three among many, many cute pieces out there!! I find success with two pieces at places like Winners, Marshalls and even thrift shops if you look really hard. Keep in mind that two pieces don't always have to match. That's the fun part…mix matching is part of the ordeal and colour blocking is really popular in this trend as well! It's such a fun trend to try and definitely worth investing in as you could potentially be getting multiple outfits out of it!
Have you tried out the two piece look yet? If you have…how do you wear it best? Let me know in the comments below!!