A while ago, I wrote a post about my endless love for plaid. That endless love has filtered its way into this post as I detail a few of the upcoming trendy skirts that have made it onto my wishlist. We have seen many media icons sport the good old plaid thread, which is why it has resurfaced in the trend cycle over and over again.
Let's look at those very media icons…
Cher from Clueless, Blair Waldorf from Gossip Girl…they both have worn this amazing pattern, and in a few short months, I hope to do the same. But the only way I am going to get to do that, is if I get myself a little plaid skirt!
Factory Plaid Mini-skirt, J.Crew Factory, SOLD OUT
I don't normally put things that are sold out on my wishlist, but I have a feeling this skirt will be brought back. It is normally $92.50, and for a good reason. I tried this skirt on during my outlet haul, but silly me thought that I could put this purchase off until the fall! No can do, after seeing that this little number was sold out, I called up the factory outlet and ordered it immediately. So looks like the plaid outfit details will be coming sooner than you think! Red is the colour of the upcoming fall season, and I will definitely be incorporating a lot of it in the upcoming outfit details series!!
Plaid Midi Pencil Skirt, Old Navy, $27.50
This skirt showed up in the last fall season, only it was in mini form. This year, the midi skirt trend has really come into play and is really catching on. This comes in a deep maroon colour as well, which is also great,  but I really love the blue. Although red is a really popular colour this season, the blue plaid makes a statement and would pair well with any bright colour on the top.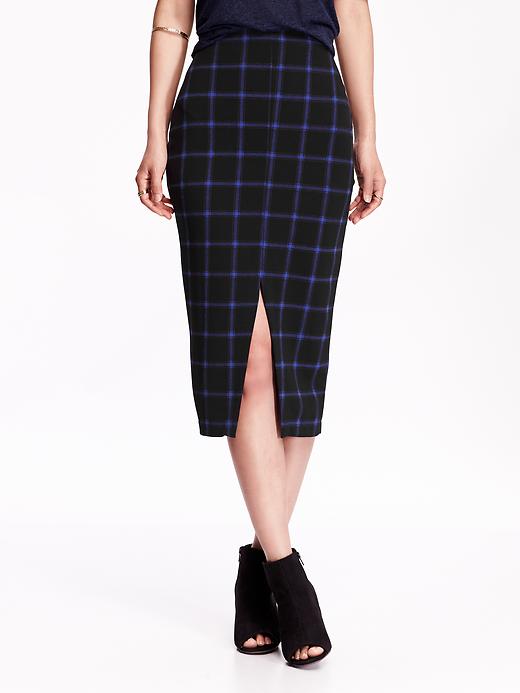 Plaid Bouclé Mini Skirt, Forever 21, $23.90
I can't deny my love for this black and white gingham plaid pattern. Affordable, cute and practical are just three words to describe this beauty! You can wear this all-year round – winter, summer, spring and fall. Mixing this with different pieces to change up the look would be ideal for this plaid piece! Personally, my favourite look for this piece would involve black tights, some heels and a pop of colour on top!
I love summer,  but I cannot wait for fall and the looks that come with it!! Whether you are shopping on Main St., heading to class, or going to work…nothing says style like a good plaid skirt. Besides…everyone needs a little Blair Waldorf in their life!!