The Fall season is approaching…and with that, I am turning to wish for all of this season's necessities! I have never been a huge fan of vests. Jean vests, puffy vests, leather vests…the whole lot of them. Why? Well I used to own a little black vest and I would wear it with my hot pink top, skinny jeans, black boots…accompanied by a sad excuse for a "Duff Puff" (google it…). Whenever I even thought about buying myself a fashion vest (fur, denim or leather), I cringed…the image of "Grade Nine me" flashing at the front of my mind.
We all have those style feaux pas and they usually stem from trying to find yourself in high school amongst way too much eye liner… (guilty). Well, I am here to tell you that I have stepped away from that past of mine, and I am completely drooling over leather vests this season. There is nothing I want more than to rock a leather vest of my own…and today, I will be detailing three that are out there right now (linked below), just in case you want to jump on this edgy band wagon with me!
BR Monogram Leather Moto Vest, Banana Republic, $370.00
I first saw this leather beauty debuted on The Marilyn Dennis Show when stylist, Erica Wark, was showing off the spring classics! I instantly wanted it in my closet, but I've been impatiently waiting for it to come down in price. It is a very pricey item, but well worth the money. This genuine leather piece could be styled year 'round, whether you go for a white-black look, or dress it up with pops of colour in your jewelry or shoes…it would look amazing!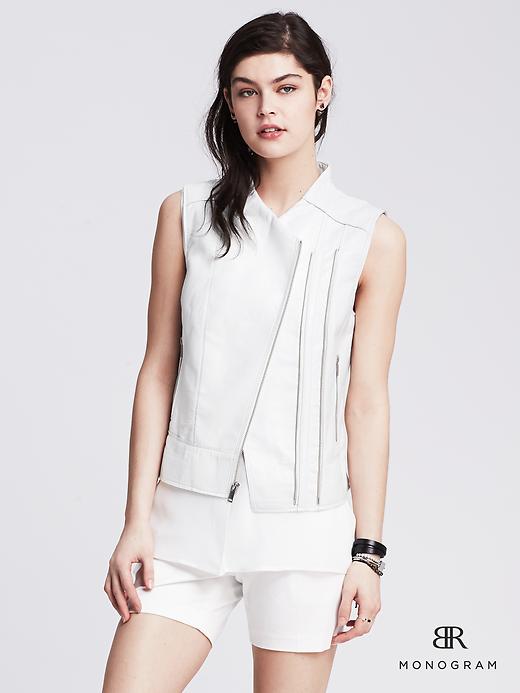 Gianni Bini Daria Moto Vest, Dillard's International, $67.54
This moto vest is ideal for the upcoming Fall season. Why? The colour of course. Leather vests are a pretty good wear all year 'round, but this tan colour screams Fall. Dress it up with a mini dress, dress it down with some cuffed jeans – however you choose to style it, it is incredibly easy to make this piece look amazing! One of the many features that I love about this moto vest is the side zipper. I love side zippers because it makes for a flawless fasten (in other words…no awkward bunching or front fold). 
Fringe Vest, SaksOff5th, $49.99
We all have those weird phases that we go through. Whether it's leather slacks, crochet tops, or a neon fedora…we all have those trends that we secretly love. Well, this fringed vest is something that I need to have. This summer, boho chic has been a huge trend. Well, to be honest…I'm not a huge fan. There are some pieces that I do absolutely love, but there are some pieces that aren't really my style. This fringed vest is to die for and as soon as I saw it…it was on my wishlist instantly!! 
I have the Fall bug…as much as I love summer…I can't stop dreaming of rust colour palettes, woven scarves, leather coats, and high heeled boots (to name a few of my favourite trends…). These leather vests could so easily be styled for the upcoming cool seasons! Stay tuned for more fall necessities in the upcoming #WishlistWednesday posts!!