Out of the many, many style icons of today, there are only a handful of them that I truly respect and honour when looking for inspiration. Although not every celebrity out there dresses to impress, the Duchess of Cambridge surely does and she has proven that come wind, rain or sunshine! Never do you see Kate Middleton without a smile.
I have a slight obsession with the royal family, mostly because they all seem so graceful and classic, which is what I admire the most. Looking your best when times may not be great is not easy, but Ms. Middleton makes it look easy! Today, I am going to be showing you some of my favourite looks and how YOU can style them yourself…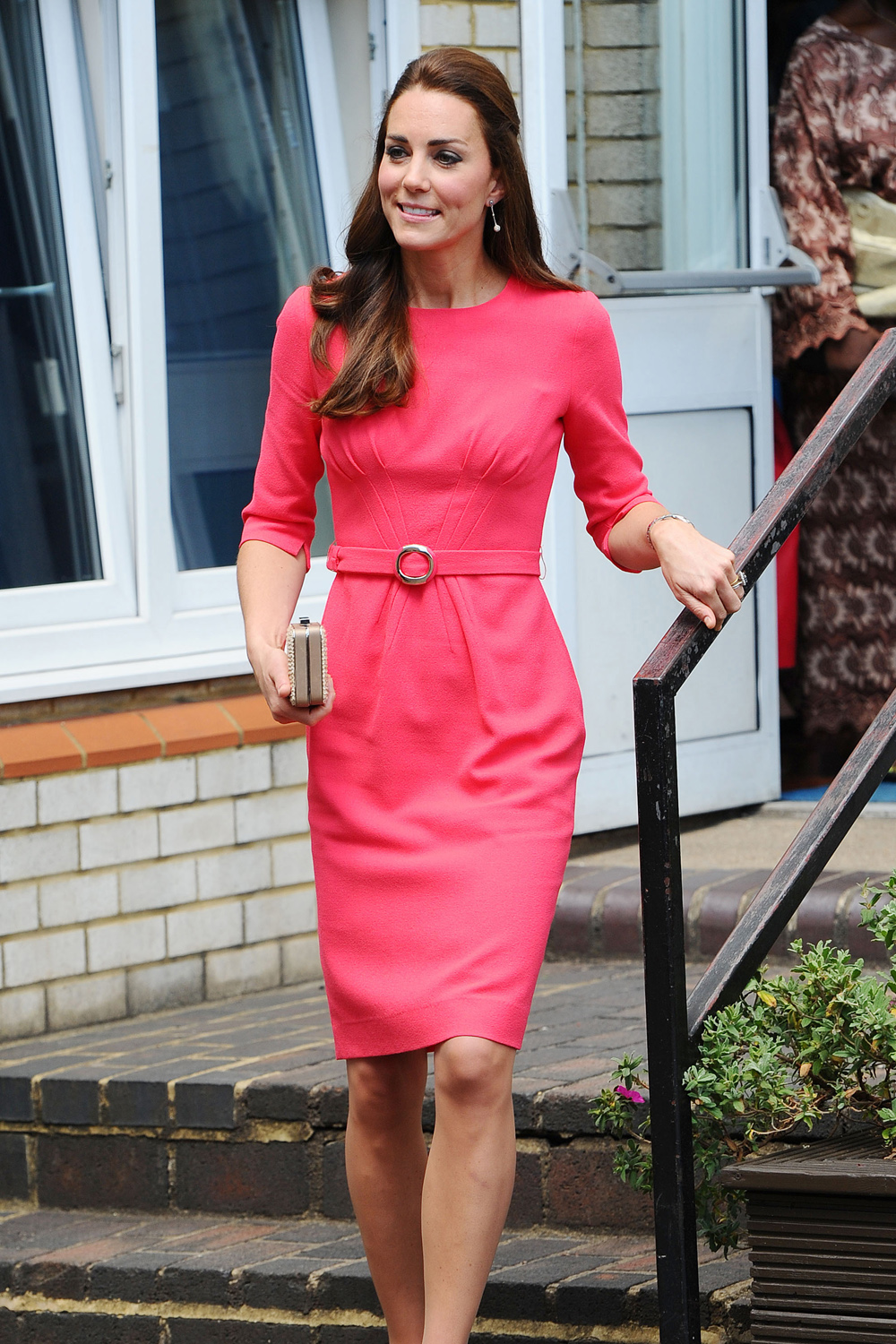 ---
Coloured Jeans 
While Kate Middleton visited the Paralympics in Great Britain to watch the hockety team practice – she even joined in on all the fun! She caught everyone's eye when she arrived in tangerine coloured jeans, a double breasted navy blazer, and a printed scarf. The navy compliments the tangerine colour extremely well. I went on a little hunt and found some very similar items (some of which are on sale!!) so you can recreate her casual, nautical look!
1 Balmain Double Breasted Blazer (for a smiliar, less expensive blazer, click here) | 2 Paisley Scarf | 3 White Tee | 4 Tangerine Skinny Jeans | 5 Black Flats
---
Earth Toned Street Style
Caught running errands, Kate Middleton looked absolutely gorgeous in this street style look. Earth tones look really nice on her because of the colour of her hair and her natural shape. I really love in this look how she picked a bag that popped next to all of the other colours used. After looking around, I pulled a few items that will help you cop this style very well.
1 Khaki Blazer | 2 Ivory Woven Scarf | 3 Michael Kors Tan Bag | 4 Skinny Jeans | 5 Black Riding Boots
---
Fun and Flirty
I love this look of Kate's. She wore this cute little number to the opening of the London Warner Bros. studio! Polished, professional and covered in polka dots, this is such a classic look. I'm so glad that she chose natural waves with this look as well – she has gorgeous hair and it definitely pays to flaunt it!
1 Blazer | 2 Black Bow Clutch | 3 White and Black Polka dot Dress | 4 Classic Black Pumps | 5 Neutral Lip stick
---
Kate Middleton is a timeless style icon of mine, and I get so much inspiration from her looks! They are so simple to recreate, and a lot of the pieces that she wears, you can find similar styles at the mall or online for much, much cheaper (which is always a benefit!).
To find the items I am looking for, my go-to fashion search engine is Shopstyle! Key in the style you want, and Shopstyle searches through all their connected retailers to see what matches! You can sort by lowest price, highest price…whichever fits your searching needs.
Happy shopping and enjoy the Duchess' posh style!